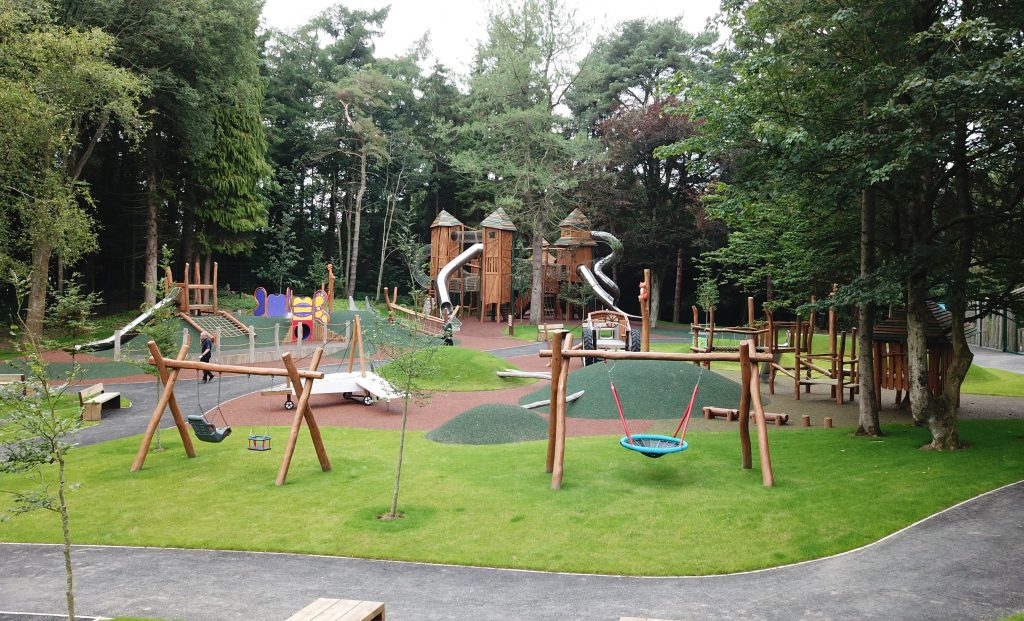 We were delighted to be successful in the tender competition for the design and build of a state of the art play area at Hillsborough Forest Park. The play area is a part of an overall forest redevelopment project comprising of a visitor centre, coffee shop, Adventure Play facilities, sculpture trail, additional car parking plus improvements to pathways, signage and seating provisions. The £4.26m project is being funded by the Department of Agriculture, Environment and Rural Affairs (DAERA) and the LCC Council. We were thrilled to have been involved in this innovative, natural play space and we wanted to ensure that our final design offered maximum play value through the provision of a multitude of play equipment enabling play by children of all ages and abilities.
The theme of the play area was to encourage and embrace 'natural' play in the forest setting. The bespoke Play equipment provided was designed and manufactured specifically for this project. Children will experience physical and social play, role play, adventuresome play and their imagination will be enriched through the themed concepts and features on offer in both the equipment, surfacing and aesthetic landscaping.
We ensured that the 'natural theme' was a significant aspect to our design proposals. Ultimately we provided the Client with:
 Natural bespoke items of play equipment that complimented the existing environment
 Inclusive mound play area: developed to provide play by children of all ages & abilities. The inclusive zone includes wide slides, transfer boards around the entire mound for accessibility, hand grips, wobble belt, scramble nets. We also included accessible play panels, inclusive roundabout and inclusive swings.
 Toddler play area: This area included equipment suitable for younger users and will keep them entertained through the slides, climbing walls and variety of swings on offer.
 A Natural play zone was created, providing timber balance beams, grass mounds and vertical stepping logs.
 Numerous items of natural bespoke street furniture such as picnic tables & seating provisions where purchased by the client in advance and installed within this project.
 Landscaping the play area was a substantial aspect of the project.
We provided the following hard and soft landscaping:
o We designed & installed the drainage system to the whole park
o Creation of bespoke mounds and ground contours to enhance play opportunities
o The safety surfacing of the park was predominately coloured rubber mulch and grasslok matting to tie in with the forest theme and in colours to complement the natural area
o Design & Installation of a bespoke 'gateway' entrance feature with robina timber with bespoke hand crafted signage designed & installed
o Soft landscaping to the park included:
 Natural grass turf was applied to mounds and the perimeter of the play area.
 Natural log trees were included as additional seating areas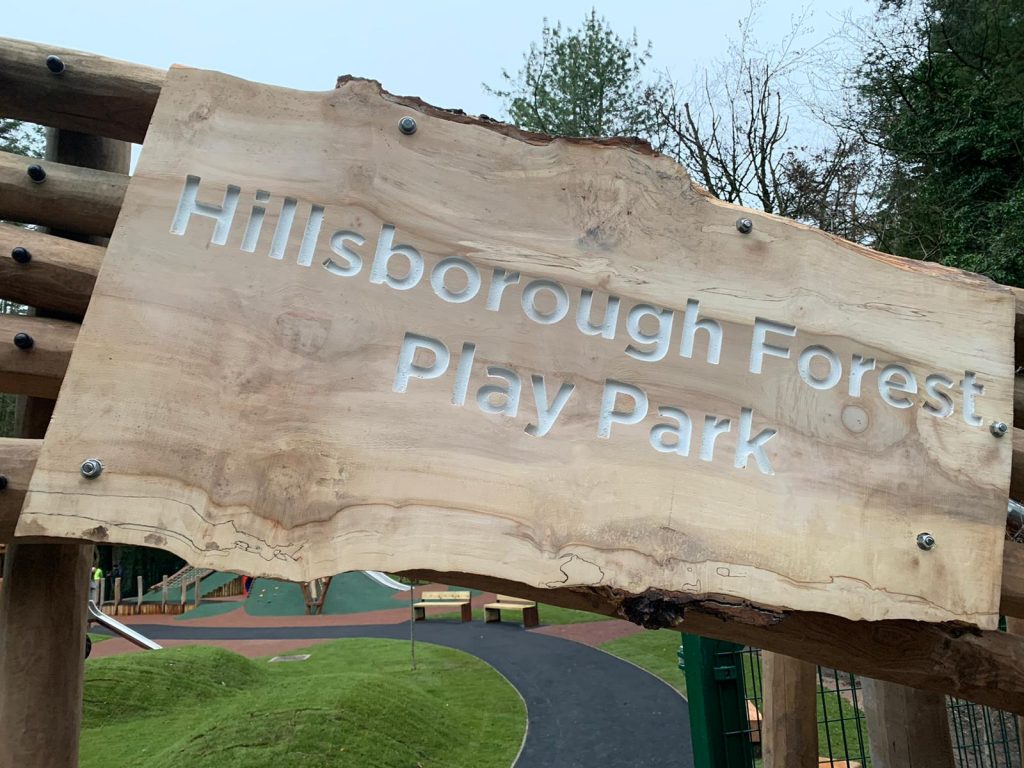 Hawthorn Heights were delighted to have been awarded the design and build contract for the Hillsborough Forest Play Area. We are confident that the new, iconic Play Area will unite communities across all divisions and become a land mark play facility that will be positively accepted and enjoyed by all visitors to the facility for many years to come.